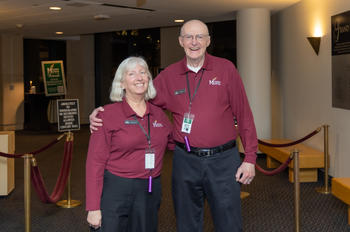 Volunteer Opportunities
Volunteers are a crucial part of the operation of the Center for the Arts. Whether ushering at one or more of our many performances and events or representing the Center for the Arts at community events, our volunteers play an integral role in the success of the Center for the Arts. Our volunteers are a diverse and fun group to work with and enjoy sharing their time and talents with the community.
Who can volunteer?
Volunteers must be 18 years or older and should also be friendly, energetic and outgoing.
What do volunteers do?
Volunteer ushers work alongside the rest of the Front of House staff to ensure that Center for the Arts patrons have a safe and enjoyable experience while attending performances and events.
How do I apply?
Thank for your interest in joining the Center for the Arts community! We are currently looking for new Volunteer Ushers. To apply, please fill out an application. If you have any additional questions, please contact our House Manager, Maura Glascock.