Connecting Artists and Audiences
Each year, the Center for the Arts invites several artists and ensembles with distinctive and innovative artistic voices to make Mason their home for a residency. 
Each Mason Artist-in-Residence will participate in a variety of activities, designed to engage and inspire the diverse audiences both on and off the campus of George Mason University. Learn more about the work and impact of recent Mason Artists-in-Residence.
 
2023/2024 Mason Artists-in-Residence 
The following artists have been chosen to participate in the Mason Artist-in-Residence program in conjunction with their 2023/2024 Center for the Arts season performances. In addition to their respective performances, the ensembles will lead a variety of events, classes, and discussions across the Mason campus and wider community.
Silkroad Ensemble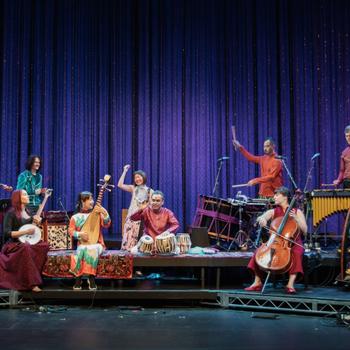 Returning for their second of three years as a Mason Artist-in-Residence, GRAMMY-winning Silkroad Ensemble presents American Railroad, an initiative that maps American music through the various immigrant communities involved in building the late-1800s Transcontinental Railroad. Artistic Director Rhiannon Giddens joins the ensemble for this performance, which is told through the stories and sounds of African American, Chinese, Irish, Mexican, and Native American communities. Traditional instruments—such as the guzheng, pipa, erhu, and qinqin—cross paths with fiddles, bones, tambo, and banjo to remind audiences of America's intricately interwoven history.  
A

.I.M

by Kyle Abraham
MacArthur Genius Award-winning choreographer Kyle Abraham is the founder and artistic director of A.I.M by Kyle Abraham, "one of the most consistently excellent troupes working today" (The New York Times). This Black-led contemporary dance company aims to create a body of dance-based work that is galvanized by Black culture and history. Abraham's dance aesthetic defies genre, mixing and morphing from social dance to classical dance styles and back again, and the Center presents his visionary works which uncover the relationships between identity, history, and geography. "It is a crazy, sexy, cool fusion of elite/street/afro-punkism that is a visual feast" (Dance Magazine).
Small Island Big Song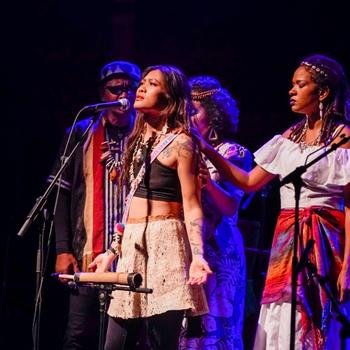 In honor of Earth Day festivities, join Small Island Big Song for a moving concert experience combining music, spoken word, and stunning projections to showcase unique oceanic grooves and soulful island ballads, while shining a light on the devastating effects of global warming on 16 Pacific and Indian island nations. Framed against panoramic visuals, more than 100 indigenous artists are represented to highlight a shared seafaring ancestry with interconnected musical traditions. These unique lineages mixed with their diverse contemporary styles—roots-reggae, beats, grunge, R&B, folk and spoken-word—establish a contemporary musical dialogue between cultures as far afield as Madagascar, Aotearoa, Taiwan, Mauritius, Marshall Islands, Papua New Guinea, Tahiti, and Rapa Nui. Billboard ASIA describes Small Island Big Song as "one coherent jaw-dropping piece that is likely the first time these traditional instruments have been mixed together... The result is breathtaking."   
We believe in the power of the Arts to create community, and look forward to welcoming these incredible artists this season! More information about how you can engage with the Mason Artists-in-Residence will be posted here and on the artists' event webpages as it becomes available.
Read more about past residencies with Nrityagram Dance Ensemble, Silkroad Ensemble, and Indigenous Enterprise in the 2022/2023 season.​​​
Sign up for email updates from the Center for the Arts to stay informed about this program and all of the activities at the Center.